"I will bring the one-third through the fire, Will refine them as silver is refined, And test them as gold is tested. They will call on My name, And I will answer them. I will say, 'This is My people'; And each one will say, 'The LORD is my God.'"
(Zechariah 13:9 NKJV)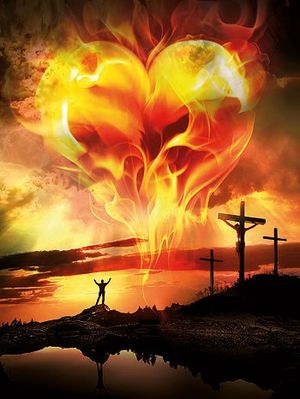 For You alone, are Lord 
Consuming, Holy Fire... 
Today we continue sharing lyrics to one of our songs, "Being in Your Presence".  We pray God speaks to you in this time of reflection. 
To illustrate how God is a consuming fire, we have included a story: 
The Refiner's Fire 
As she watched the silversmith, he held a piece of silver over the fire and let it heat up. He explained that in refining silver, one needed to hold the silver in the middle of the fire where the flames were hottest as to burn away all the impurities. The woman thought about God holding us in such a hot spot; then she thought again about the verse that says: 'He sits as a refiner and purifier of silver.' (Malachi 3:3) She asked the silversmith if it was true that he had to sit there in front of the fire the whole time the silver was being refined. The man answered that yes, he not only had to sit there holding the silver, but he had to keep his eyes on the silver the entire time it was in the fire. If the silver was left a moment too long in the flames, it would be destroyed. The woman was silent for a moment. Then she asked the silversmith, 'How do you know when the silver is fully refined?' He smiled at her and answered, 'Oh, that's easy — when I see my image in it.' (taken from ourgoodwinjourney.com/refining-fire) 
God is holy and he requires us to be holy in order to reflect who He is to others.  He purifies us as long as we are willing.  Sometimes the fire is almost unbearable, but if we stay in His hands the dross (impurities) will rise to the top and we will be able to see the image of Him when we look in the mirror. 
Let the holy fire of the Lord purify you today. 
Scriptures: 
"But who can endure the day of His coming? And who can stand when He appears? For He is like a refiner's fire and like fullers' soap. "He will sit as a smelter and purifier of silver, and He will purify the sons of Levi and refine them like gold and silver, so that they may present to the Lord offerings in righteousness.  "Then the offering of Judah and Jerusalem will be pleasing to the LORD as in the days of old and as in former years. (Malachi 3:2-4) 
Prayer: 
Lord, we come to You today and ask You to purify our hearts.  Refine us like silver and gold in the fire so that we can reflect You in our lives.  Amen.
"May God so fill us today with the heart of Christ that we may glow with the divine fire of holy desire." - A.B. Simpson