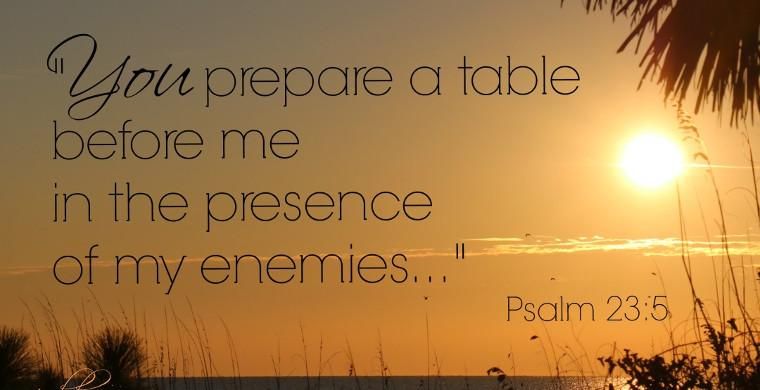 You treat me to a feast 
while my enemies watch. 
Today we continue sharing the song, Psalm 23, Lord, You Are My Shepherd (click track title to play song).  It is from our latest CD, Before Your Throne. 
So far we have learned that God is our Shepherd, who gives us everything we need and provides a place for us to rest.  He leads us to a place of comfort and peace where His living water flows freely giving refreshment to our souls.  We can also trust Him to lead us down His path of righteousness never leaving us alone, all the while protecting us with His staff and rod. 
Today let us look at the ninth phrase in Psalm 23. 
You treat me to a feast while my enemies watch. 
This is a very interesting phrase.  It implies that we will encounter "enemies", or forces that are opposed to us.  It also says that we will be taken care of even in the midst of our opponents.  It does not just say we will survive.  It says that a table or a feast will be spread before us, even while we are in the presence of those forces that oppose us. 
For some of us, this is a difficult phrase to believe when we are going through intense spiritual warfare.  The last thing we see is a banquet set before us.  So what does this mean?  One interpretation could be reflecting on the scripture that says, " Taste and see that the LORD is good; blessed is the one who takes refuge in him" (Psalm 34:8).  When we feast on God's word, He gives us strength to be overcomers even in the presence of our enemies. 
Prayer: 
Lord, You prepare a table before us and we feast on Your word, even in the midst of opposition for Your name's sake.  Amen.