You, Lord, are all I have, and you give me all I need; my future is in your hands. (Psalm 16:5)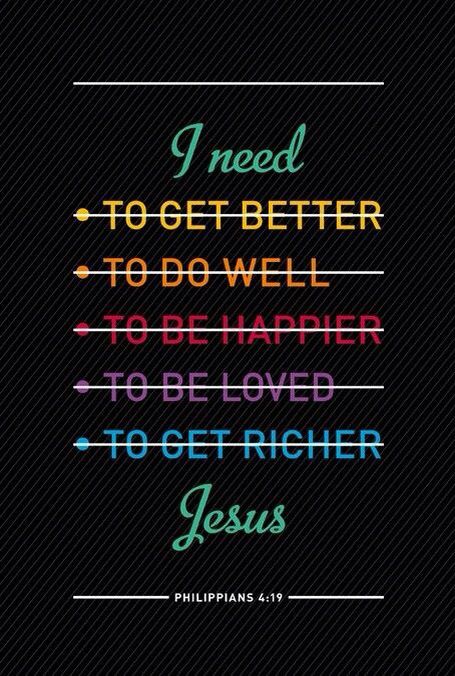 Being in Your presence, O Lord 
Is all I need ...
Today we continue sharing lyrics to one of our songs, "Being in Your Presence".   We pray God speaks to you in this time of reflection. 
God is all we need.  We are complete in Him.  There is nothing or no one who can add to what God has already given to us - His priceless gift of salvation. 
Jesus gives a purpose for life.  Without Him there is no reality and no meaning.  Everything is about Christ.  Without Christ we are dead. Jesus says in John 15:5, "I am the vine, you are the branches. The one who abides in me while I abide in him produces much fruit, because apart from me you can do nothing."
He knows what we need.  In fact, He makes it clear throughout His Word that He is fully capable of meeting our every need. 
Take a moment and reflect on His goodness: 
He is the Lover of your soul. 
He is the friend who sticks closer than a brother. 
He is our present help in times of trouble. 
He is our salvation. 
He is our peace that passes all of our understanding. 
He is our Creator. 
He is the Truth. 
He is our Wonderful Counselor, Mighty God, Everlasting Father, Prince of Peace, the King of all kings, our Great Redeemer. 
He is the name above every name! 
Prayer: 
Lord, we are in awe of You.  Thank You for not only giving us the desire of our hearts, but also meeting our every need.  We don't deserve Your love, but we are so very grateful to have it.  It makes all the difference in our lives.  Amen.
"God always has and always will look for men and women who say to Him, 'I trust you so much, I'm all in. I want your way not mine. I am willing to live by faith!'"- Chip Ingram