You're all I need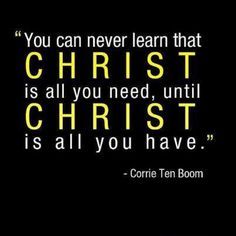 We are continuing share the scratch recording of our song, You Are My Everything for the daily devotion. 
God desires that we have complete dependence on Him.  He is not a control freak.  He just knows what is best for us and wants to lead us down His path. 
Imagine going for a walk with someone and encountering a fork in the road.  Even more, imagine choosing a different path and going in separate directions. 
God is a lamp to our feet and the light to our path.  He knows the right path for us to take.  We have to be willing to trust Him even when the path seems uncertain. 
He is truly all we need. 
Scriptures: 
You, LORD, are all I have, and you give me all I need; my future is in your hands.  (Psalm 16:5) 
My grace is all you need. My power works best in weakness.  (2 Corinthians 12:9) 
Prayer: 
Father, we choose the path You have ordained for us.  We realize we are nothing without You.  You are all we need.  Amen.