A thousand may fall at your side, 
And ten thousand at your right hand; 
But it shall not come near you. 
Only with your eyes shall you look, 
And see the reward of the wicked. 
(Psalm 91:7-8 NKJV)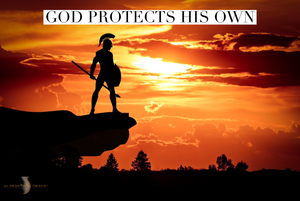 Although today's verses seem to promise that trouble will not come near us as believers, God saves us "in trouble" and not "from trouble," as we examined in yesterday's devotion. Through the centuries, many righteous (believing) warriors have fallen in battle. And God is rightly claimed to be present, whether one is spared or struck down in battle. 
Luke 21:16-18 says paradoxically that under God's care "not a hair of your head will perish" and yet "they will put some of you to death." The only thing faithful people can lose in suffering are things that are finally expendable. The real you that God is creating cannot be harmed (Philippians 1:6; 2 Corinthians 3:18 and 4:16-17). 
Paul writes with absolute certainty in Romans 8:37-39 that no dangers or troubles – physical, spiritual, or cosmic – can separate us from God's love in Jesus Christ. We have this assurance at all times, including when we are in trouble. And Paul writes in Philippians 1:21 that to live is Christ, and to die is gain. For Paul, life is summed up in Jesus Christ. Christ was his reason for being, and death would relieve him of earthly burdens and let him focus on glorifying God. 
He also says that though it may appear that the wicked are getting away with their evil that they will not be punished. Verse 8 comforts us in knowing that they will indeed receive the reward of God's judgment. 
God loved the world so much that He gave His only Son, so that everyone who believes in Him may not perish but have eternal life (John 3:16). Even when we die from the troubles of this life, we as believers have the assurance of eternal life with our Heavenly Father. 
"In Jesus Christ on the Cross there is refuge; there is safety; there is shelter; and all the power of sin upon our track cannot reach us when we have taken shelter under the Cross that atones for our sins." - A. C. Dixon