Beloved, let us love one another, for love is from God, and whoever loves has been born of God and knows God. 
(1 John 4:7 ESV)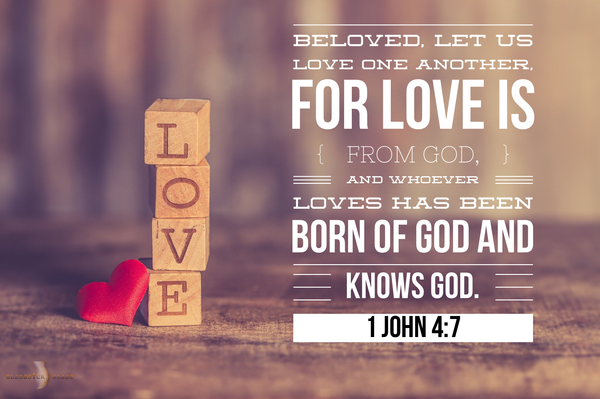 For the next nine days, we will touch upon the Fruit of the Spirit. Galatians 5:22-23 says, "But the fruit of the Spirit is love, joy, peace, patience, kindness, goodness, faithfulness, gentleness, and self-control. Against such things, there is no law." 
Today we start with LOVE. It is at the top of all the fruit because it is the most important. If we don't demonstrate love, none of the other fruits will grow in us. 
Love is a choice and not a feeling. It is selfless, always putting the needs of others above itself. Sound familiar? God is love. He chose to put us before Himself by sending Jesus to die on the cross for our sins. 
It is a tall order to display the fruit of love in our daily walk. Thankfully, God has given us everything we need to live a Godly life and that includes demonstrating His love to others. 
"Our love to God is measured by our everyday fellowship with others and the love it displays."
- Andrew Murray