For He shall give His angels charge over you, 
To keep you in all your ways. 
In their hands they shall bear you up, 
Lest you dash your foot against a stone. 
(Psalm 91:11-12 NKJV)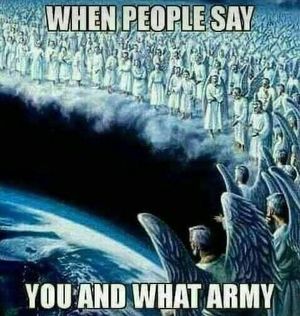 In today's verses, we are given the promise that God sends His angels to protect us. This promise in verses 11 and 12 was quoted and twisted by Satan in His temptation of Jesus in the wilderness (Matthew 4:5-7, Luke 4:9-12). Satan tempted Jesus to create an artificial crisis by throwing Himself from a high point on the temple mount, and Satan quoted Psalm 91:11-12 as a promise of protection if Jesus were to do this. The response of Jesus was to quote scripture that we are not to test God. 
We can trust God's promise that His angels are guarding and protecting us. But we don't need to test it out by seeing how far we can go. Angels are always at work, always guarding and protecting us in ways we cannot perceive or comprehend. Believe the Lord's promise and don't doubt the work of angels. 
Perhaps you can reflect back on a time when you were in danger and somehow managed to escape injury. Joanie had a personal experience many years ago. While she was traveling with a friend someone veered into her lane. On the left side of the road was a deep ditch. Without missing a beat, the car swerved slightly and she and her friend were safely back on the road without a collision or being in the ditch. Joanie recalls that it all happened so fast and that it felt like someone took the wheel. There was no doubt that angelic intervention was involved. 
We live by faith as believers. We believe that God's angels are guarding us, even when we can't point to some sort of miraculous intervention. Our faith acknowledges God's promise that He will command his angels to guard us in all of our ways. 
"God's angels often protect his servants from potential enemies." - Billy Graham